Lu Labs' Mini Tesla Coil!
---

This Tesla coil is different from the big one (http://www.hot-streamer.com/lulabs/Tesla.html) in that it is a twin Tesla coil, meaning that the two towers are 10 degrees out of phase and so they arc to each other. Also, this is somewhat more interesting due to its small size.

Pics will be coming soon.

Major Components:


Power Supply
Capacitor
Secondary Coils
Primary Coils
Spark Gap
Topload
Control Box
Sparks!



---
---
Power Supply


It is currently lacking a power supply, but it is designed for use with a 12/30 NST.


Capacitor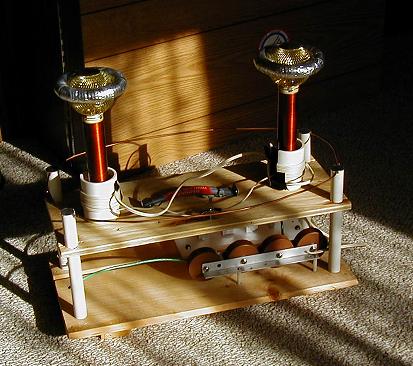 The main tank capacitor is 4 parallel TDK UHV 4nF 20kV ceramic pulse-rated capacitors designed for use in lasers.


Secondary Coils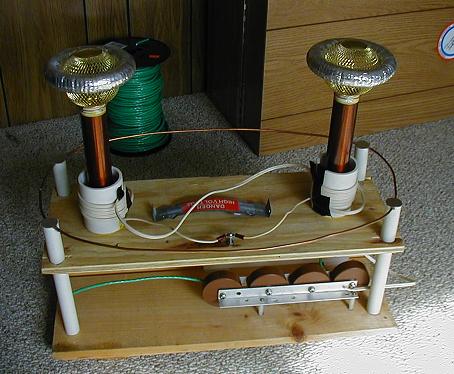 The secondary coils are wound with 36AWG magnet wire on a 1 inch PVC form (1.25 inch OD.) There are about 1000 turns on each of them, making about 6.3 inches of winding length. They are each coated with 5 coats of Minwax Helmsman Spar Urethane.


Primary Coil
The current scrap wire primaries (for tuning purposes) are wound on a chunk of 2 inch PVC using some power cord. The finished primary will use 10AWG THHN.


Spark Gap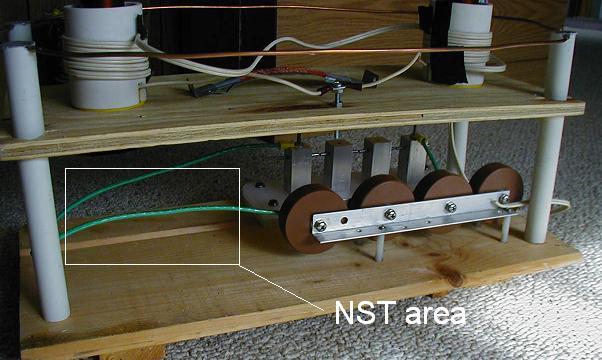 The spark gap is a 3-segment linear multi-gap made with 4 pieces of 1/8 inch tungsten rod set in aluminum blocks.


Topload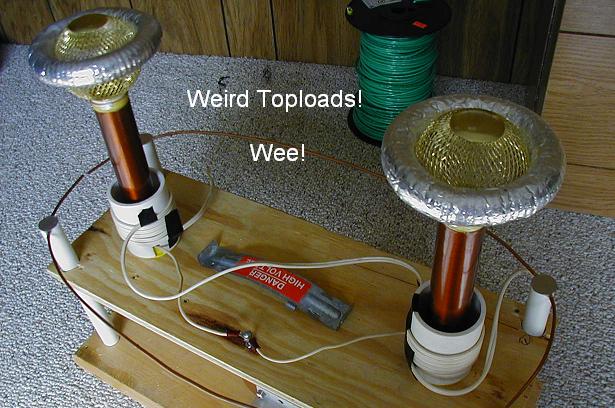 Th topload is a weird sphere-toroid combination with the toroid around the sphere.


Control Box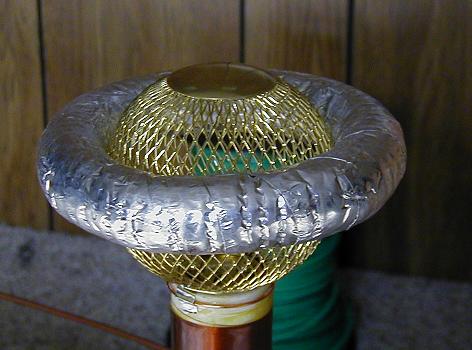 This Tesla coil doesn't have a control box yet. I will probably install a small 5A variac to control the input voltage.


---
Sparks


I have not tested this coil yet.
---
Thanks to:
Terry Fritz for being my web host :-) Thanks Terry!
The All Things Tesla forum run by Jim Layton for TONS of information that made my Tesla coil possible
The Tesla Coil Mailing List
Greg Hunter for his excellent web site loaded with information on Tesla coiling