Things to Do With a Photoflash Unit!
This is under SERIOUS construction



Pics will come soon. I am currently working on theTesla page

Photoflash circuits are extremely good portable, low power high voltage sources. They are usually available at photo stores; ask to dig through the bin of used disposable cameras. Rip out any circuit boards you see, pocket them and MOVE IT before someone who knows what they're doing tells you to put your loot back in the bin. This has happpened to me. I had ten flash boards in mint condition and the store owner came in and told me to drop my stuff back in the box. Another way to get these units is to find a store that doesn't recycle them (i. e. they simply throw them out) and give them a bin with a slot cut into the top, and tell the people who work at the place to put used disposable cameras in there.

Ok, now that you have some flash units, it's time to investigate them. They usually contain a battery clip, 2 small transformers, a flashbulb, a large capacitor, some transistors, and other stuff. Keep at least one board in good shape so you can maybe use it. Ok, time for the fun.
For the electronics literate
For the newbie
---
---

For the electronics literate

You should be instantly able to recognize all the components. If you can't identify some of the stuff, look in the newbie section for a description.

Take one of your precious flash boards and cut off one of the resistors on it. Calculate the resistance and the time constant for the big capacitor and the resistor you just cut off. If you already have resistors, say from radio crack, then use one of those. Discharge the cap through the resistor. For the more adventurous types, you can put a plain short across the cap. It will startle you, regardless of how jaded you are. There will be a loud SNAP and a burst of sparks.

Now cut the capacitor off the board and short it with a bit of wire. BE CAREFUL! There still may be residual charge on the cap. Proceed to the main transformer. It is the larger one of the transformers. Take it off the board, being careful not to damage the leads. Keep it. Then proceed to do whatever else you want (take off the little trigger transformer, the flash tube, the transistors, the diode(s), etc...)

Now after you have done this to a few of your boards, arrange all the parts and the boards that are still intact.

Projects


A small stinging taser thingy
A bigger more stinging taser thingy
A POSITIVELY DANGEROUS taser thingy
Cap charging supply
Parallelling caps to make a big pulse cap bank
Pulsing caps into ignition coils
Other ideas (use you imagination)

---
A small stinging taser thingy

Take one of your complete flash boards and fit a battery into the clip. Figure out the polarity of the battery and solder a 3v battery pack to the terminals instead of using the holder directly. This will give you more voltage because you are inputting 3 volts instead of 1.5. If you are more ingenious, you can figure out how to remove about a half of the board. The trigger transformer is not needed, so you can remove that and keep it. There is typically a slider or pushbutton switch on the camera that activates the flash. Find what two contacts the switch connects to and solder your own switch onto the contacts with a length of wire. Make sure your switch is the same type as that on the camera (momentary or slider, NC or NO.) They are typically normally open momentary pushbutton switches. For saftey, add a switch that disconnects the batteries from the flash unit, using a toggle or slider switch. Now connect two insulated wires to each lead of the big capacitor and make them stick out a bit. Put your whole thing in a box with the switches and the capacitor leads sticking out.

To operate: Turn your device on with the toggle switch. When you push the pushbutton switch, the capacitor will charge with a slight whine that rises in pitch. When the pitch ceases to rise, you can poke someone with BOTH (not one) of the leads sticking out and they will be in for a surprise! If you don't want it to hurt too much, disconnect the capacitor. This will lower the current at the leads so it will hurt less and it won't be dangerous when you turn it off. Have fun and be careful!
---
A bigger more stinging taser thingy

*****NOTE:THIS IS NOT PROVEN TO WORK. I HAVE NOT TRIED IT YET*****
Get one of your big transformers. There will be 3 pins on one side of it and 2 on the other. Look at one of you intact boards and figure out which pin goes to the primary (more coils) and the feedback (less coils). The primary will have more resistance, but the difference is so small that it almost isn't measurable. Once you've identified that, look at this circuit: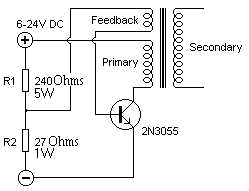 Replace the big transistor with a little one (like the 2N3096 bipolar transistor). You might have to vary the values of the resistors a bit. Build this circuit. Power it up with 3-6 volts. Now, to make it more dangerous, you will need to multiply the voltage of the output. Make a circuit like this:



Make a 10-15 stage cascade. This will multiply the voltage by about 20 times, making the output voltage 6000-12000 volts at a very low current. Now take the whole assembly (which will have a physical shape very much like the schematic) and put it in a container. Have a bulbous area for the transformer/batteries and a "stick" made from small plastic pipe and stick two wires from the end of the voltage multiplier and space them adequately (at least 1.5cm or 5/8 inch) so that they don't arc. Now test it on yourself...
---
A POSITIVELY DANGEROUS taser thingy

*****NOTE:THIS IS NOT PROVEN TO WORK. I HAVE NOT TRIED IT YET.*****
Basically, this involves parallelling many copies of the previous system. Use only one (BIG!) transistor and simply connect more transformer primaries in parallel with the first one, and use 6-9 volts. Connect all of the secondaries in parallel and try connecting it to a cap, and then discharging into a small ignition coil or something like it. Because of the high current of the supply, the cap will charge fast and discharge at maybe 10 hertz through the coil, causing the voltage to appear continuous. This will have maybe 20-40 kV on the output (although most probably less.) Test it on someone. (I have to think some more about this thing, then I'll post some updates.)
---
Cap charging supply

*****NOTE:THIS IS NOT PROVEN TO WORK. I HAVE NOT TRIED IT YET.*****
Same as the previous, except use a voltage multiplier with LARGE (>.5uF) caps and only a few (maybe 2-4) stages. Use a pot and transistor for adjusting voltage on the primary side. This will be a high-current, 2kV or so supply that can charge fairly large high-voltage caps. (More R&D needed)
---
Paralleling caps to make a big pulse cap bank

Take some of your caps. Connect them in parallel, making sure to get the polarity right. That's it. Charge it up with a complete photoflash board (it will take some time) and have fun! Quite a bit of pulsed power to play with!
---
Pulsing photoflash caps into ignition coils

Connect a cap or cap bank to a car ignition soil and have fun.... Seriously, though, I still have to think about this.