---



---








I have a lot of big picture files here, so please, BE PATIENT when viewing them.
---
More 'capacitoroid' Pics!!!
New pictures of my coil and her new "Geek Group" SW cap!
What happens when you charge up a .08uF, 45KV cap~ WARNING! BIG MOV FILE!!! 3.5MB!!
---
---
...In the Beginning...
My first coil pix, summer of `02
The making of my secondary coil...
Pix of my original cap & Jacob's Ladder
You HAVE to check this one out..it's worth it! Let the music load for a while to get the full effect!
Links to contributors, inspirational folks
More spark pics!
My new secondary coil form pictures!
Miscellaneous non-high voltage related pics
FIRST LIGHT PICS!
---



I have to point out that in some of these pics/.MOV files, there appears to be what looks like a plastic cup in between the toroid and another conductive object (toroids, spheres, etc...) well, your eyes are not deceiving you! There is no physical electrical contact between these objects!

I have to give up a big 'Thank You!' to my son and fishing pal, Brian, who first came up with the idea...he likes big sparks, too!
I love you, Buddy!!!


---
NEW HVFUN PAGE!
The lab!!!
---
New spark pics!
When good caps go bad!

NEW!!! Animation Shop experiment with coil pics!!!



A look at my new grounding system! Click Me!
---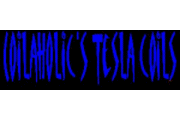 ---
My Bio page!
---
E-Mail the Coilaholic!

---
---
_____________________________________________________________________________________________
|^|
|@|